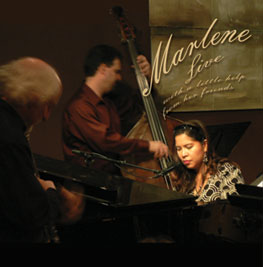 Marlene's latest CD on Blue Earth Music,
Marlene LIVE With a Little Help From Her Friends
. Marlene del Rosario on vocals/piano. Also featuring Greg Hopkins on trumpet, Patrick Mottaz on guitar, Dave Landoni on bass and Brooke Sofferman on drums.
About the musicians and project.
Ms del Rosario draws you in with an uncanny grasp of the jazz, blues and soul idioms...Like Bill Evans and Miles Davis, the silences between the notes are always as emotionally telling as the words themselves."
-UK jazz critic, John Stevens (E-Jazz news)